Five values, one aim – to provide the best service to our customers
Our values journey:
In 2018, UK Engage's parent company, Print Image Network, embarked on a project to confirm its core company values.  Believing that values are best determined by those who embody them, our employees participated in determining the five core company values; values that are part of our DNA. Through a series of surveys, employees were invited to consider a list of principles they believed best represented our company and what we felt it stands for.  Following this exercise, we organised a number of collaborative workshops where employees were brought together to openly discuss the initial findings.  From these exercises, five core company values were revealed.
Our five core values:
Throughout the exercises, there was consistency among employees as to what we believed we stood for, which was: –
Commitment
Efficiency
Knowledge
Professionalism
Trust
Commitment:
We are dedicated to supporting our customers, our company and each other, with determination and loyalty.
Efficiency:
Utilising planning and organisation, both as individuals and a cohesive team, we demonstrate the measurable ability to produce the desired result.
Knowledge:
We use our skills and experience as experts in our field, to continually enhance our collective intelligence and to further develop our insight into our customer's needs.
Professionalism:
We are proud to be a team of competent and skilled individuals, that is devoted to providing a positive experience for our customers and stakeholders.
Trust:
We believe in our values to develop relationships with our customers and each other, that are strong, reliable and honest.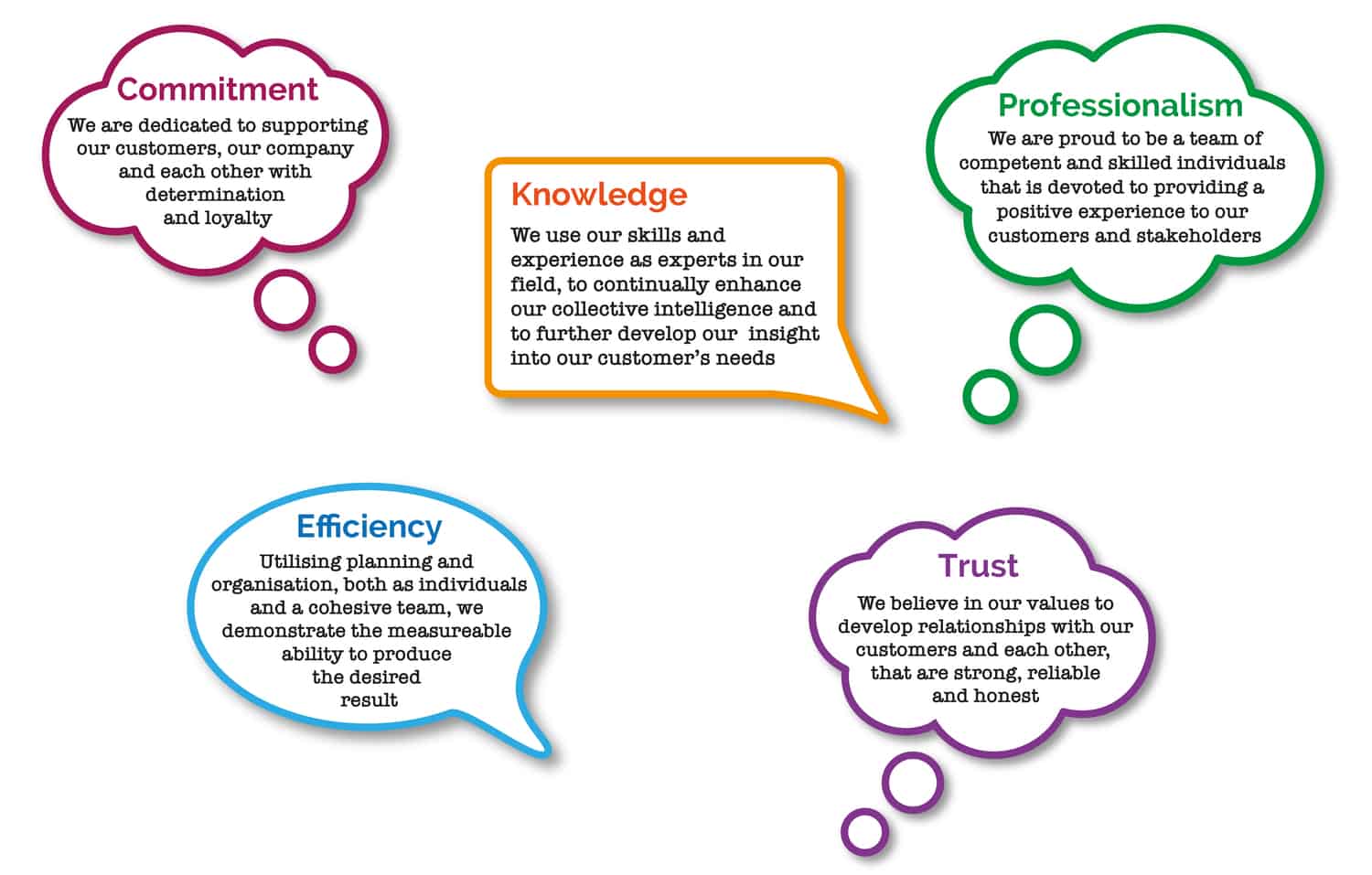 With our five core company values defined, UK Engage is now embarking on the journey to live and breathe them throughout the organisation. This includes having them visible throughout our offices and acknowledging values-related behaviour and results with the introduction of values awards.
"Our ambition is to create a company-wide common and shared understanding around our five core values, translating them into professional behaviours and entrenching them in the way we work with each other, customers, suppliers, partners, and stakeholders," says Stephen Power, Services Director and values ambassador.
Values, people and service
Ultimately, the satisfaction that comes with finally defining our core values is how they benefit employees and customers.  As a proud owner of the Investors in People (Silver) accreditation and the Cabinet Office's Customer Service Excellence standard, the employees and customers are what makes the business.  Through investment in our employees, UK Engage aims to help staff feel valued, engaged and rewarded, which in turn translates into better service for election services customers.
"Each year, following our annual customer satisfaction survey, we are always humbled by the kind comments our customers provide.  It is interesting to see the correlation between the feedback we receive from our customers and the values our employees believe to be true. It really shows that we are living our values and have been doing so for many years," says John Foster, Managing Director.
UK Engage's values project is part of a wider CSR programme.  To discuss find out more about this please contact us at democracy@uk-engage.org.