National Association of Co-operative Organisations
NACO APPOINTS UK ENGAGE TO RUN A TRANSFER OF ENGAGEMENTS BALLOT
The national scrutineer printed, designed and mailed voting ballot packs so that members could vote in a trade union merger ballot.

NACO was established as The National Association of Co-operative Officials in 1917. NACO is a trade union which represents management and professionals in the co-operative movement. It assists members by providing professional and legal advice, employment and contract advice, individual representation, collective bargaining, and career development and training.
Democratic Project:
In 2018 members of The National Association of Co-operative Officials (NACO) were given the opportunity to vote on whether NACO should merge with the Union of Shop, Distributive & Allied Workers (USDAW) via a Transfer of Engagements ballot. For the merger to happen the majority of members had to vote in favour of the merger. UK Engage was selected to administer the ballot.
Solution:
Currently, in the UK, statutory trade union ballots and elections are held by postal ballot. Therefore, we produced a ballot pack and mailed it to voting members. Due to the important nature of the merger ballot, we adhered to all the relevant guidelines for ballot paper design. To enhance the ballot paper we produced a printed colour pack, using NACO's brand guidelines to adhere to their union identity. The pack included information relating to the Instrument of Transfer of Engagements, in order to fully explain the background to the merger ballot.
24% of NACO's voting members returned the ballot paper to cast a vote in the Transfer of Engagements ballot. 82% voted in favour of a Transfer of Engagements from NACO to USDAW. The client was extremely happy with the service provided by UK Engage and the clear communication between the supplier and client.
"Throughout our Transfer of Engagements ballot, our union found UK Engage to be highly professional, very straight-forward, and extremely helpful. Nothing was ever too much trouble, and the support from the account management team was fantastic. I would have no problem in recommending UK Engage to any organisation considering using their services."
Bob Lister – Intermin General Secretary, NACO
To request a downloadable PDF version of this and other case studies, please complete the form below.
You will be redirected to a download page where all case study PDFs are available.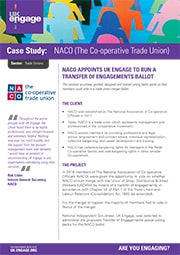 ENGAGE WITH US
Do you have an election, ballot, poll, referendum, AGM or another process you need help with?
.