Chartered Institute of Environmental Health
UK ENGAGE DEVELOPS A MULTI-CHANNEL ELECTION & Member ENGAGEMENT FOR REGISTERED CHARITY & PROFESSIONAL BODY
Adopting online and traditional channels to encourage member engagement in a new governance and voting structure


The Chartered Institute of Environmental Health (CIEH) is a registered charity and the professional voice for environmental health. With a heritage, spanning 130 years, CIEH provides information, evidence and policy advice to local and national government, environmental and public health practitioners in the public and private sectors.
Democratic Project:
In 2016 CIEH went through changes to its governance and voting structure. Under the new structure, six trustees were to be elected by vote by all CIEH members. The appointment of UK Engage was part of CIEH's wider agenda to improve its democratic process introducing transparency and putting members at the centre of all decisions. CIEH was keen to develop its online channels, especially online voting and to improve member engagement.
Solution:
To encourage members to participate in the election and stand as candidates, UK Engage developed an information mailing to send to all members, an online and postal nomination form, a series of email communications and an online voting system were also built. All solutions were created using bespoke election branding, enhancing member engagement.
The election was contested, resulting in three times as many candidates than seats. In addition, the introduction of the e-voting system was well-received, accounting for 34% of the votes. Both the client and members of CIEH found e-voting system incredibly easy to use, some members took to social media platform Twitter to express how easy they found the site to vote.
"As part of the new governance structure it was important that CIEH demonstrated our commitment to democracy and transparency. We wanted to put members at the heart of the election and so adopted a multi-channel approach. Using online and traditional methods, we were able to ensure all our members were given the option to participate in the election in a way which best suited them. UK Engage facilitated this process with excellent professionalism."
To request a downloadable PDF version of this and other full case studies, please complete the form below. You will be redirected to a download page where all case study PDFs are available.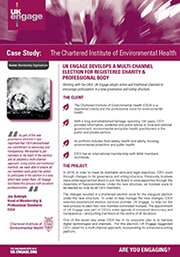 ENGAGE WITH US
Do you have an election, ballot, poll, referendum, AGM or another process you need help with?