Leading UK Housing Partnership
Effective resident engagement helps to launch a new housing initiative
Residents come forward to join the 'Academy' to learn how to become effective board members.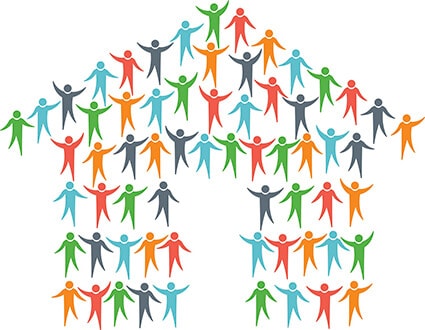 Leading ALMO in the South East England that has responsibility for the day to day management of housing services and resident engagement.
Democratic Project:
The client wanted to improve resident involvement to get involved about the key decisions they were making.  In addition, the client wanted to improve resident engagement to encourage residents to put themselves forward for Board member seats and other elected positions.
Solution:
The Academy was established to identify those residents who were truly passionate about being improving their local community and UK Engage was confident that it would identify strong candidates to fill Board member seats. A resident engagement communications plan was developed which included a series of postal and email messages.
The multi-channel approach helped to raise awareness with tenants and leaseholders and 35 residents felt confident enough to apply to be a part of the Academy. Twelve of the residents went on to apply for board member positions. UK Engage and the client saw this as a successful resident engagement exercise.
Board Member Applications
"We have worked with UK Engage for the past two years on our Annual General Meeting. They have provided excellent support and advice on how to make the whole process smoother and more efficient, along with a very friendly and down to earth customer service. They have been invaluable in helping us move our AGM process online and the proof is in the record numbers of members voting at this year's AGM."
To request a downloadable PDF version of this and other full case studies, please complete the form below.
You will be redirected to a download page where all case study PDFs are available.
ENGAGE WITH US
Do you have an election, ballot, poll, referendum, AGM or another process you need help with?