Esterline
End-To-End Election Services For Esterline's Special Negotiating Body
Encouraging participation among UK employees, via a multi-channel, end-to-end election service

Esterline Corporation is a worldwide manufacturing organisation which specialises in serving aerospace and defense markets. The company's values cultivate the respect and trust of its shareholders, customers and employees and are inherent to its governance.
Democratic Project:
UK Engage was appointed to oversee end-to-end election services for both the nomination and voting phases of the Special Negotiating Body (SNB) election. It communicated the message to Esterline's employees, across two constituencies, in order to encourage participation.
Solution:
Working closely with Esterline to understand how best to engage with its employees, UK Engage provided multi-channel, end-to-end election services for nomination and voting phases of its election. Services included an election and engagement hub, timely engagement communications and multi-channel nomination and e-voting systems.
Efforts taken to engage with employees before and during the nomination period proved effective, resulting in a great candidate response where both constituencies were contested. The ballot achieved a 44% employee voter turnout, a testament to the end-to-end election services.
"This was Esterline's first election of its kind and so we looked to UK Engage for election expertise and support. The account management of our Special Negotiating Body was extremely efficient and we felt fully supported throughout the process. UK Engage was attentive to Esterline's specific requirements and we found them to be both agile and responsive to our needs."
To request a downloadable PDF version of this and other full case studies, please complete the form below.
You will be redirected to a download page where all case study PDFs are available.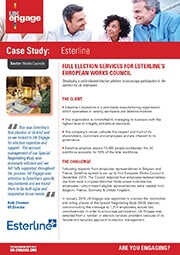 ENGAGE WITH US
Do you have an election, ballot, poll, referendum, AGM or another process you need help with?