Edgbaston Priory Club
UK ENGAGE teams up with Tennis & Leisure Club to Deliver AGM Services
UK Engage's AGM services helps simplify a complex ballot system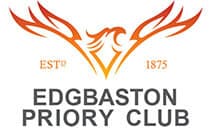 The Edgbaston Priory Club is a private members' tennis, squash and leisure club based in Edgbaston, Birmingham. The club boasts a strong heritage in racquet sports, especially tennis.
Democratic Project:
Following the adoption of the new Rule Book members could vote in advance of the AGM by post or online. Members who did not choose to vote in advance had the option to vote in person on the day of the AGM.  With no fewer than 30 matters on which to vote, including positions and resolutions, the club required a ballot system that could simplify a complex array of voting options.
Solution:
Working in collaboration with the club, UK Engage developed an online, postal and face-to-face ballot solution for its 2016 AGM. The AGM services included a 'Notice of Meeting' booklet outlining the proposed resolutions on which to vote, a candidate statement booklet, member letter and ballot paper, electronic voting and on-the-day, in-person AGM services support.
Egbaston Priory Club was happy at the AGM services provided dedicated and personal effort that was taken to deliver its AGM. The complexities of combining votes that were placed both before and during the AGM were managed quickly and reported on that evening. Voter turnout was 29%, which was record figure for the club and an increase on the previous year.
"We have worked with UK Engage for the past two years on our Annual General Meeting. They have provided excellent support and advice on how to make the whole process smoother and more efficient, along with a very friendly and down to earth customer service. They have been invaluable in helping us move our AGM process online and the proof is in the record numbers of members voting at this year's AGM."
To request a downloadable PDF version of this and other full case studies, please complete the form below.
You will be redirected to a download page where all case study PDFs are available.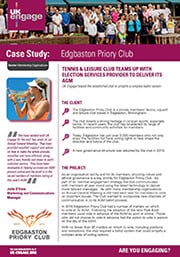 ENGAGE WITH US
Do you have an election, ballot, poll, referendum, AGM or another process you need help with?