Music Industries Association
THE MIA ADAPTS ITS PROXY VOTING MEASURES IN LIGHT OF THE PANDEMIC SOCIAL DISTANCING RESTRICTIONS
The trade body meets its obligations to its members via virtual AGM proxy voting.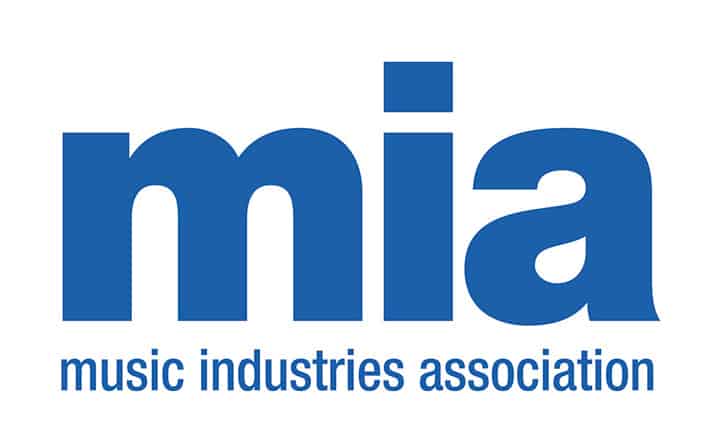 The Music Industries Association (MIA) is the UK trade body that represents the interests of UK businesses making and selling musical instruments and associated products.  It exists to promote, protect and support the UK music-making industry, representing 220 member organisations.
Democratic Project:
In 2020 the MIA, like most organisations, found itself looking for an alternative way to carry out its AGM safely, under social distancing measures. Therefore, looking to explore a way for members to vote on resolutions electronically, the MIA began
looking for a trusted independent scrutineer with secure online voting technology, which could carry out its AGM proxy voting transparently and securely. The MIA had previously run their AGM voting in-house, posting ballot papers to members and counting votes on the day of the AGM via a show of hands. With a new requirement for electronic voting due to COVID-19, the MIA reached out to leading scrutineer, UK Engage for help.
Solution:
The solution the MIA opted for was to take the AGM online and provide their members with the opportunity to cast their vote electronically, appointing the Chair as their proxy. Each of the 220 members was provided with a unique security code to ensure secure access to the electronic voting site, whereby they could vote on two resolutions. All proxy votes were cast as intended as the Chair was not granted discretionary voting by the MIA. The members were sent their AGM proxy voting code via a personalised email.
The electronic voting site was branded using the MIA's brand identity and logo.
As it was the first time the MIA ran a fully virtual AGM, including the voting, they wanted everything to run smoothly and look professional. Therefore, they were happy with how the emails and voting site looked and functioned. Engagement, voting and AGM attendance more than doubled than the previous year. Ultimately, the MIA was very happy with the voting solutions and the responsiveness of the UK Engage support team.
"As this was our first time running a virtual AGM, the MIA wanted to take advantage of this opportunity by going fully digital for the AGM proxy voting. UK Engage were very responsive from the start – they asked insightful questions to scope exactly what we needed. The integration was very simple, and we had very few queries from members. We have had very positive comments and more than doubled our membership engagement. An excellent service which I would recommend without hesitation."
Chair
Music Industries Association
To request a downloadable PDF version of this and other full case studies, please complete the form below.
You will be redirected to a download page where all case study PDFs are available.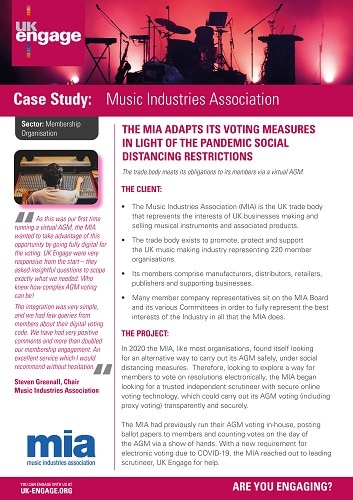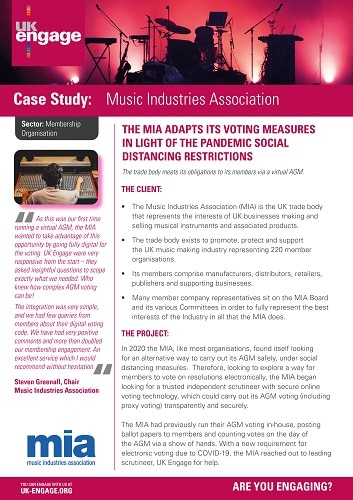 ENGAGE WITH US
Do you have an election, ballot, poll, referendum, AGM or another process you need help with?