Transport for London
Simplifying The Ballot Paper And Pack For Transport For London
Rationalised ballot paper pack production and election management.
Reducing costs and improving efficiency.

Transport for London is responsible for the day-to-day operation of the Capital's public transport network, managing London's main roads, and planning and building new infrastructure. The TfL Pension Consultative Council considers and discusses issues relating to the operation of TfL Pension Fund.
Democratic Project:
Transport for London Pension Consultative Council (PCC) appointed election specialist UK Engage to review its ballot paper pack and to manage its election process to elect representatives to the Pension Consultative Council.
Solution:
UK Engage redesigned the previous ballot paper pack, producing a single document. It's new clean and simple format, allowed pension scheme members to cast their votes with ease. UK Engage acted as the independent scrutineer and delivered the election count for the TfL producing the final results.
Two of the three elections were contested and the client was pleased with the new ballot paper pack which had a low spoilt paper rate of 0.2% and was more cost-effective than the previous pack.
"UK Engage delivered a new ballot pack with speed and efficiency, their experience in designing election materials meant they knew exactly how to rationalise the pack to make it simpler, reducing the amount of paper used and simplifying it for our members."
To request a downloadable PDF version of this and other full case studies, please complete the form below.
You will be redirected to a download page where all case study PDFs are available.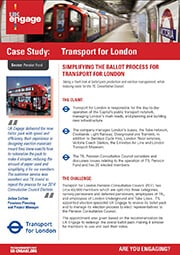 ENGAGE WITH US
Do you have an election, ballot, poll, referendum, AGM or another process you need help with?
.