THE INSTITUTE OF WORKPLACE & FACILITIES MANAGEMENT
IWFM OPTS FOR A HYBRID AGM
Easing social distancing restrictions means in-person and digital AGM voting for the membership organisation.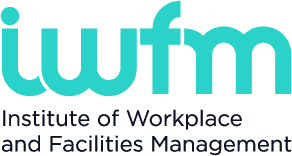 The Institute of Workplace and Facilities Management (IWFM) is the body for workplace and facilities professionals.  It exists to promote excellence among a worldwide membership community of around 14,000 and to demonstrate the value and contribution of workplace and facilities management more widely. Th IWFM was established in 2018 and it builds on the proud heritage of 25 years of the British Institute of Facilities Management.
Democratic Project:
Having gone 100% virtual for its 2020 AGM, in 2021 the Institute of Workplace & Facilities Management wanted to trial a paperless hybrid AGM. Like many organisations, IWFM has had to change its AGM format due to the pandemic. With social distancing restrictions easing, it decided a hybrid option would give members a choice. Three choices were available for members, online (advanced proxy voting), in person at the physical AGM, or virtually online (via live stream) at the same time as meeting attendees.
A long-standing client of UK Engage, IWFM trusted the team to develop digital AGM voting solutions from its range of online democratic services. The voting technology was chosen to suit its particular requirements for a hybrid format in 2021, which included asking members if they were planning to attend the meeting in person, virtually, or not at all.
Solution:
A fully online solution was created for IWFM consisting of:
• An online nomination portal for members to nominate themselves to stand for election, which required nominees to name one supporter each to qualify.
• A voting site to capture AGM attendance intentions, votes for Non-Executive Directors and resolution proxy votes.
• A live AGM voting solution for the four resolutions.
All eligible members had email addresses and so were able to receive their voting credentials via email. In addition, a marked register was created ahead of the AGM to determine which members had already voted.
For the live voting on the day of the AGM, the IWFM used our Conference Voting solution as a managed service, which is a live voting and presentation system specifically for meetings. The team at IWFM built their own voting slides for the four meeting resolutions members were to vote on at the AGM.
All online systems worked well, and members were able to nominate, vote (by proxy and in-person) online, to determine the outcome of the resolutions and the two Non-Executive Directors. Voter turnout increased by 20% on the previous year with a reduction in the number of abstains. Because the voting was entirely online there were no rejected votes.
"Outstanding voting solutions, support, and service levels. Friendly, helpful, competent; UK Engage is an all-round great supplier. I wouldn't use anyone else."
Donna Duckworth – Head of Governance & Business Change
To request a downloadable PDF version of this and other case studies, please complete the form below.
You will be redirected to a download page where all case study PDFs are available.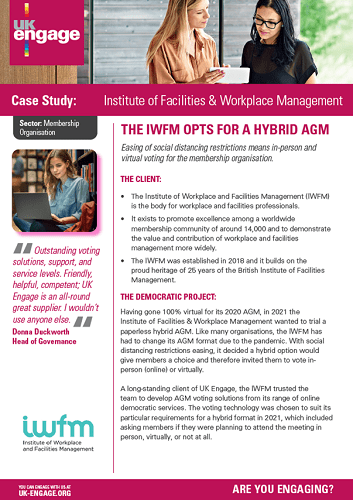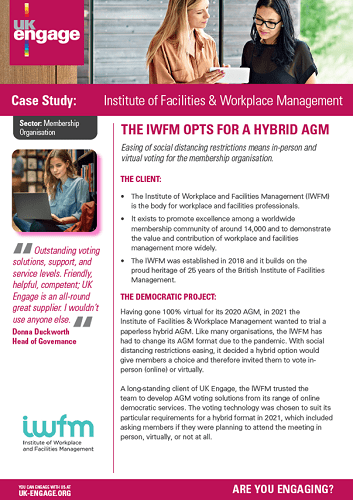 ENGAGE WITH US
Do you have an election, ballot, poll, referendum, AGM or another process you need help with?