Dorset HealthCare University NHS Foundation Trust
ONLINE & POSTAL VOTING SOLUTIONS FOR COUNCIL OF GOVERNOR ELECTIONS

Dorset HealthCare University NHS Foundation Trust serves a population of more than 800,000 people and employs more than 7,500 members of staff. The Trust is made up of three public constituencies (Bournemouth, Poole, Dorset and the rest of England & Wales) and one staff constituency and has nearly 13,000 members (public and staff) which are eligible to participate in its Council of Governor Elections.
Democratic Project:
Having worked with UK Engage on previous Council of Governor Elections, Dorset HealthCare University NHS Foundation Trust appointed it again to manage the process to elect staff and public members to its Council of Governors. With six seats available for public members and two for staff, the membership team wanted to ensure the elections across four constituencies were contested and that all members were aware of and could participate in, the elections. UK Engage began working on the printed and online solutions for the nomination and ballot stages of the Council of Governor Elections, according to the agreed election schedule.
Solution:
To keep costs down the election was administered using online solutions, supplemented by printed solutions. The nomination stage comprised an online nomination form, a printed nomination form and nomination emails which delivered information to members who had email addresses. To encourage nominations, a postcard was designed, printed, and mailed to members. When the elections began in the four constituencies, members could vote online via a secure voting site, using a unique code. For members with email addresses, voting credentials were sent via email. A printed ballot pack with unique credentials for the voter was designed, printed, and mailed to the members who did not have an email address. To secure more email addresses, an A5 email generation insert was included in the postal ballot pack.
All available seats in each of the four constituencies were filled and Dorset HealthCare University NHS Foundation Trust had six public member governors and two staff member governors to help steer the Trust and make important decisions on behalf of the other members. The members were provided with a nomination and voting option that was suitable for them and helped to collate more email addresses for the Trust. 
"I was very impressed with UK Engage. Account management and communication were very impressive and led to an efficient and successful election. The mix of print and online solutions worked well and resulted in all seven seats being filled. Queries were dealt with immediately, updates sent through regularly and deadlines met every time. Excellent service."
To request a downloadable PDF version of this and other case studies, please complete the form below.
You will be redirected to a download page where all case study PDFs are available.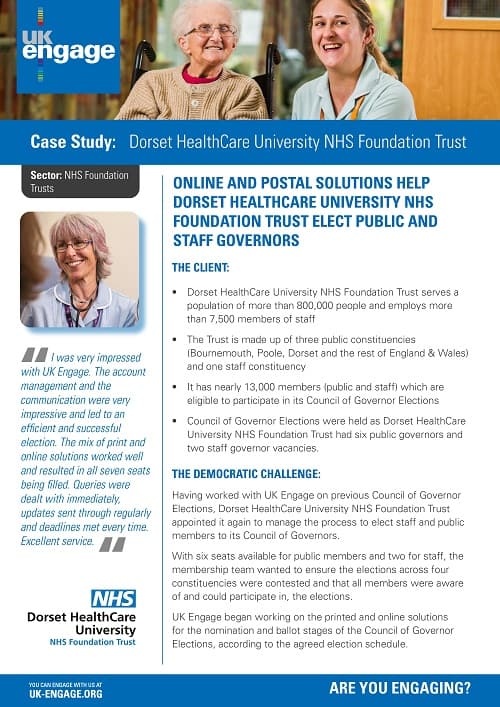 ENGAGE WITH US
Do you have an election, ballot, poll, referendum, AGM or another process you need help with?