Clarion Housing
Online Employee Survey Helps Clarion Housing Collate Opinion On Employee Representation
Versatile online voting platform helps to deliver a result on collective representation, following housing merger.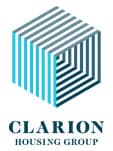 Clarion Housing Group owns 125,000 homes up and down the country, with over 360,000 residents.
The Group has a workforce of 4,000 employees since the merger. It is committed to investing, developing and supporting its staff.
Democratic Project:
Following the merger of Affinity Sutton and Circle Housing Group, the newly-formed Clarion Housing Group wanted to provide employees with the opportunity to have their say on the type of representation they would prefer. The Group wanted to collate thoughts about collective representation, via an online employee survey, so it could adopt a model which took their views into account. The housing association chose impartial independent scrutineer, UK Engage, to run the online employee survey on its behalf.
Solution:
The solution included a bespoke online employee survey and a series of emails, which were used to deliver secure voting credentials to employees. The online employee survey presented a secure method of opinion casting for employees, as each employee was allocated a unique security code to access the survey. The online option also reduced print and postage costs, associated with a postal survey.
50% of the staff put forward an opinion in the collective representation survey. As the survey was conducted online, all votes were valid and there were no returned opinions that were rejected due to spoiled or inconclusive postal returns. The reminder emails sent by UK Engaged showed a distinct correlation between the send times and survey completion activity.
Staff submitted an opinion
"Clarion Housing Group believes it is important to be open and transparent in all that we do. In UK Engage we found an organisation which is experienced in running impartial and transparent democratic processes. In addition, its online system was secure and easy-to-use, which made expressing an opinion very easy for our employees."
To request a downloadable PDF version of this and other full case studies, please complete the form below.
You will be redirected to a download page where all case study PDFs are available.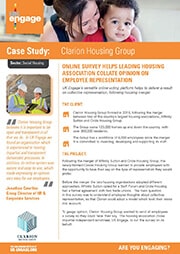 ENGAGE WITH US
Do you have an election, ballot, poll, referendum, AGM or another process you need help with?