At UK Engage, we understand the unique needs and challenges faced by building societies when it comes to conducting Annual General Meetings (AGMs). Our expertise lies in developing customised democratic services that align with our client's objectives and help them achieve their goals with their members.

When you partner with us, you can expect a fresh approach to AGM services. We go beyond the traditional methods and explore innovative ways to ensure secure, transparent, and efficient processes. As your AGM is a key member engagement process our team of dedicated professionals takes the time to understand your requirements, and we work closely with you to suggest or develop tailored solutions that meet your specific needs, member messaging and overall member experience.

As you will be asking members to vote on resolutions and for board members, our services are designed to provide a seamless and reliable experience for both you and your members during all of the stages of your AGM process. We prioritise data security, confidentiality, and integrity throughout the  process, giving you peace of mind and meeting your governance requirements

With our extensive experience in the building society sector, we have a deep understanding of the industry's regulations, governance and compliance requirements. We adhere to the highest standards of professionalism and accuracy, ensuring that your event is conducted in full compliance with industry guidelines and your articles.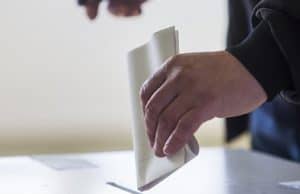 How can UK Engage assist your Building society with our electoral management services?
At UK Engage we take a tailored approach to elections, ballots, polls, AGMs, referendums and consultations, our democratic voting services and experienced team delivers impartial and transparent contests. We have a range of election services to deliver impartial and transparent results for your building society.

Online voting services

Security, convenience and cost make online voting options a desirable choice for building societies undertaking both AGM proxy voting and any real-time digital voting during the AGM. In today's digital age, providing convenient and accessible voting methods along with pertinent and engaging required information is also key to promoting member participation. 
We take pride in offering the most cutting-edge and secure online voting AGM technology available in the market. In addition to our managed service, we provide a self-managed live online voting system specifically tailored for voting during board or other member meetings.
Our revolutionary hybrid voting solution – UK emeet offers a reliable end-to-end solution for your virtual or hybrid voting needs. The easy-to-use platform allows all participants to vote securely via proxy, remotely or in person using their smart device as well as access to video and a live Q&A with board directors (As required).
Building societies should prioritise member engagement and inclusivity when selecting a voting method for proxy voting, and postal voting is often considered a highly beneficial choice in achieving these goals.

At UK Engage, we specialise in creating and producing tailor-made proxy AGMl ballot packs to meet client requirements to include the required notices, statements, and financial/annual reports along with an engaging proxy ballot and pre-addressed/pre-paid return envelopes. We use cost-effective postal methods for sending printed items, which are professionally designed by our in-house team.
By utilising a unified solution for both proxy and real-time meeting voting, you can achieve significant efficiencies and cost savings compared to traditional approaches involving separate services. Additionally, our platform allows for a seamless display of digital results immediately following each vote, providing a smooth transition to your next agenda item.
We offer comprehensive in-person AGM voting services, including secure voting for members, both in person and through proxy voting. Our services cover online and postal proxy voting, on-site registration, management of voting devices, impartial count adjudication, and dedicated on-site voting support for AGMs and General Meetings. 
We provide convenient options such as hand-held voting devices or mobile voting. Our efficient team swiftly counts the results using technology and the marked register, ensuring accurate compilation with previous votes.
Choose UK Engage for your democratic processes
If you're a building society looking for a trusted provider of election services, look no further than UK Engage.
Contact us today to discuss your requirements and see how we can help you conduct a successful and transparent election with our customised solutions. Our team of democracy experts eagerly await the opportunity to discuss the specifics of your process!
Find out What our AGM support means to our clients
"I found the delivery quality and adaptability of the team to be excellent. Our Account Manager was able to adapt designs and invitation documents quickly to take into account changes due to the pandemic for us hosting our 2020 AGM. We were also able to deliver an e-pack for the first time and increase our member engagement with the helpful easy-ask question facility, this has led to a pleasing increase in AGM voting numbers."
Company Secretary – The Exeter